How can you save $3000/month per Autoclave?
Aerospace composites manufacturers face numerous challenges:
Accuracy and reliability of thermocouple performance.

Lost time, increased scrap due to poor junctions, loose connectors and leaks under the bag.

Used thermocouples must be thrown away or undergo time-consuming and expensive refurbishing and testing prior to new cures.

BAC 5621 compliance and ease of traceability for NADCAP audits.
There is a better thermocouple solution for autoclave applications.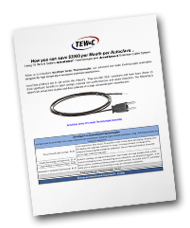 In this whitepaper, you will learn:
The benefits of using pre-made thermocouple assemblies.

Savings based on time studies (AccuClave vs. Conventional Thermocouple)

Additional saving from using AccuClave-X extension cables

How to calculate your own savings.
Fill out the form on the right to get your copy of this informative whitepaper today!